AUTOMATED
LETTUCE LINES
The highest yields.
Simple. Reliable. Profitable.
Have you ever dreamed of a greenhouse business where you wouldn't have to worry about yield, the competence of workers, and the actual record-keeping of the harvested crop? Sounds like fantasy? Perhaps. But it's real. We can create such a business for you.
Lettuce lines are developdd for the harvesting of the highest yields of lettuce, dill, parsley, basil, and other greens. To date, this technology provides one of the highest results, moreover, without the use of any chemical treatments.
It is a modern, automated, and reliable system. Most importantly, lettuce lines allow for the use of the fewest number of workers and harvest continuously without stopping.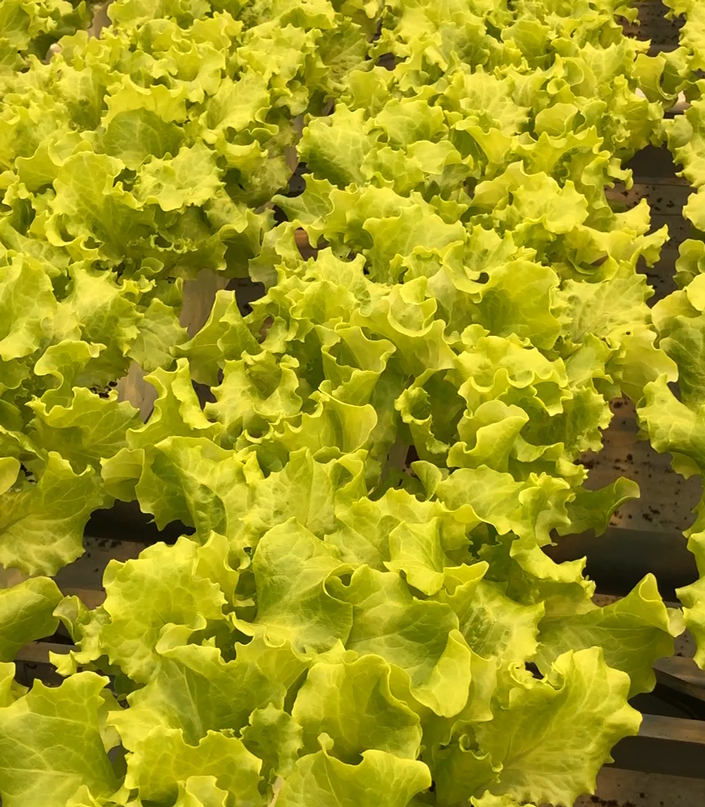 FRESH TASTY HARVEST 365 DAYS A YEAR
With traditional cultivation in open ground, usually 8 plants per m2 are grown per year. In salad lines, more than 1000 plants per m2 can be grown annually. Modern technologies allow for continuous production planning and forecasting the harvest for each day.
Lettuce, greens, herbs – all plants in the lines are tasty, beneficial, and ecologically clean. The assortment for cultivation is quite large: basil, lemon balm, arugula, dill, parsley, onion, iceberg, lollo rosso, romaine, lettuce, butterhead, oakleaf, baby leaf mustard, baby leaf radish (leaves only), baby leaf spinach, and other herbs.
3 key indicators of salad lines
EFFICIENT USE OF SPACE
Every meter of the greenhouse is used as efficiently as possible thanks to the special design of the tables, as well as the automatic sliding and arrangement of trays with plants.
EFFICIENCY OF LABOR
Take advantage of all the benefits of automation. Automated lines in the greenhouse minimize labor costs. From sowing to harvesting, almost no human labor is required.
EFFICIENT USE OF RESOURCES
The closed and controlled hydroponic system circulates irrigation water, reducing water consumption by 95% compared to soil cultivation.
THE GROWING PROCESS IN LETTUCE LINES
FIRST STEP: SOWING
The cultivation of lettuce and herbs kicks off with the sowing process. Our solution provides advanced automated sowing systems, eliminating the need for extensive manual labor. Containers designated for the growth of lettuce and other greens are primed with a substrate and seeds. Subsequently, they're watered and fortified with biological pest control measures. The system predominantly utilizes either peat or mineral wool as the medium.
SECOND STEP: GERMINATION CHAMBER
Once seeded, the pots are transferred to the germination chamber using specialized trays. This chamber is designed with a meticulously regulated climate. With integrated humidity, heating, and cooling systems, it crafts the optimal conditions for seeds to sprout, preparing them for their subsequent move to the greenhouse.
THIRD STEP: PROPAGATION TABLES
Matured plants, held in trays, are placed on seedling tables equipped with movable irrigation booms. These booms, governed by a climate control system, adjust based on factors such as illumination, heat, and watering duration. Once the plants have a well-developed root system, they're ready for transfer to the NFT hydroponic system. The relocation process is made efficient using tools resembling forks, facilitating the handling of multiple pots at once. After transplantation, the empty trays are thoroughly cleaned in a specialized station and then reused.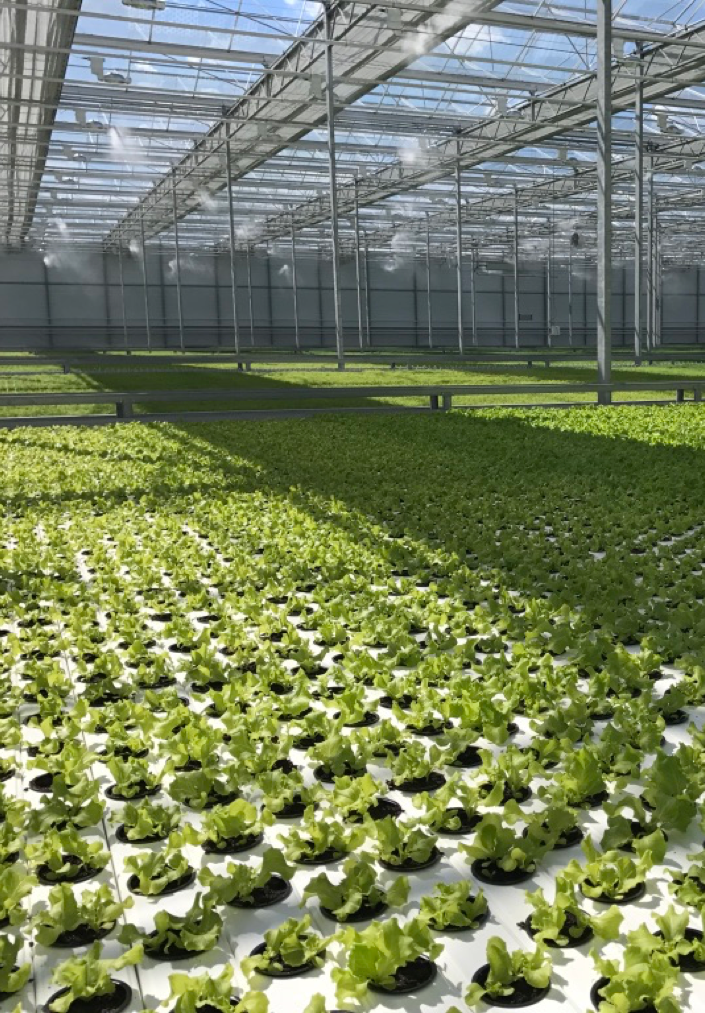 FOURTH STEP: AUTOMATED LINES
In this system, gutters holding plants are moved automatically. As the plants mature, the distance between the gutters is modified to cater to their growing requirements. This innovative approach enables similar cultivation levels in smaller greenhouses, leading to reduced energy consumption and lower investment expenses. On the flip side, it amplifies production and enhances efficiency compared to traditional greenhouse systems of a similar scale.
FIFTH STEP: IRRIGATION
The plants are automatically irrigated and nourished through an integrated management system. Precision drip emitters regulate the water flow into the trays, ensuring optimal hydration. After circulating through the trays, the water collects in a tank situated below the lettuce cultivation lines. This design guarantees that plants are consistently provided with the appropriate water and nutrient levels. Excess water is then filtered, redirected to the main irrigation tanks, and recycled for future use.
SIXTH STEP: HARVESTING AND PACKAGING
At the culmination of the growing cycle, plants are automatically positioned at the line's end, poised for collection. Harvesting is conducted at the terminal of each cultivation line. Directly from the table, the freshly-harvested lettuce can be efficiently packed into boxes or sealed in plastic containers.
If preferred, a conveyance system can be integrated to channel the gathered lettuce to a centralized packing hub. Once packaging is complete, the emptied trays are sanitized at a designated washing station situated below the packing area. These trays are then systematically shuttled back to the line's beginning via a specialized conveyor, signaling the initiation of the next cultivation cycle.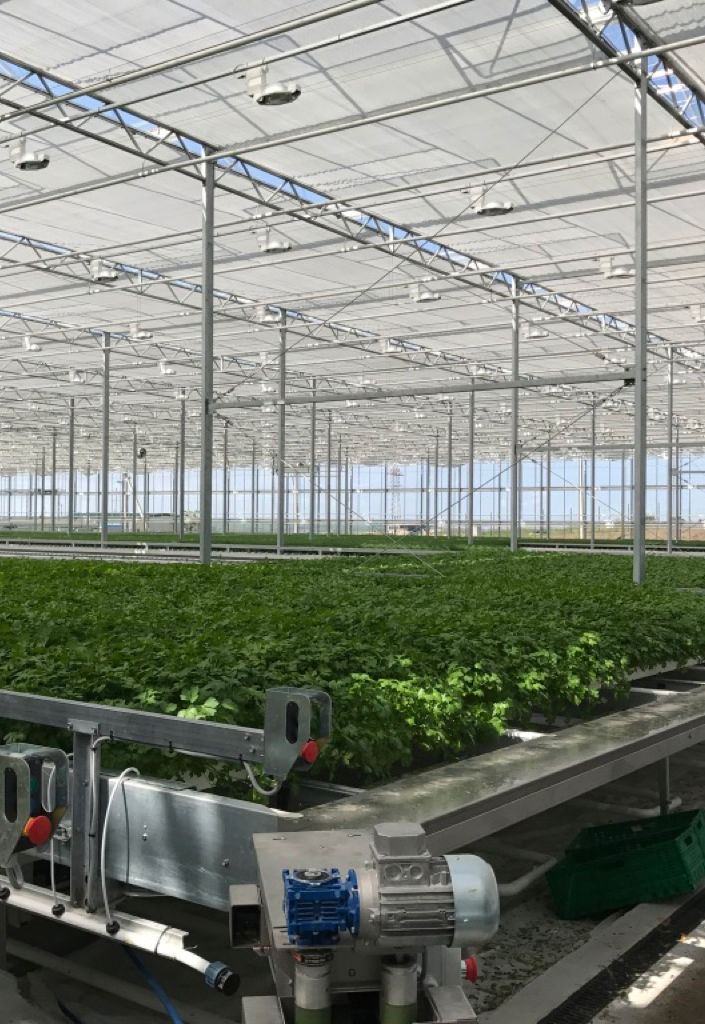 Certainly, this system stands out in its excellence! With its user-friendly interface, meticulous control, predictive features, and full-scale automation of essential operations, it's the pinnacle of what one can offer to businesses. Are you captivated? We don't just bring such projects to life; we meticulously craft detailed blueprints for each procedure.
Reach out to us
to discover the optimal solution for your needs!
CONTACT NOW