Stay in touch
We collect useful information about cultivation, greenhouse technologies, interesting projects, new products of our company and the entire greenhouse industry.
New countries, exhibitions, new or classic proven methods.
Interviews with specialists, research and reviews. Answers to questions and interesting facts.
It contains everything that can be interesting and everything that can be useful.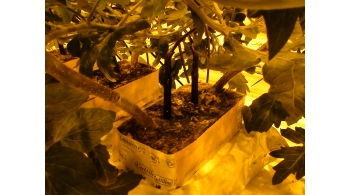 The importance of oxygen for the health and development of plants
Plants need oxygen to grow. Oxygen is absorbed by the roots in dissolved form and is important for the active assimilation of necessary nutrients such as nitrogen, phosphate, potassium, as well as for the accumulation of proteins and the production of dry matter. Lack of oxygen in irrigation water causes serious problems with the growth and development of plants.
The amount of dissolved oxygen also regulates the production of substances that suppress diseases and pests. It can enter water by diffusion from the atmosphere, but often irrigation water is stored in tanks, so there is little or no contact with air.
The physical maximum concentration of dissolved oxygen is 8.5 ppm for water with a temperature of 25℃, if growing in summer. In practice, a concentration of 3 to 5 ppm is often found in greenhouses. Plants suffer greatly from such concentrations, especially for fighting bacteria.
Dissolved oxygen injection is one of the effective methods for improving crop quality and health. There are various systems on the market that can be integrated into existing irrigation systems, so you can analyze and find the best solutions for yourself!
Perspekta keeps you up-to-date on modern growing in greenhouses. Are you planning to build a greenhouse? We develop, design and supply modern turnkey greenhouses.
Source of the Article: hortidaily.com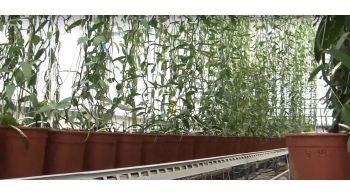 Growing vanilla in a greenhouse is profitable
One of the interesting and profitable ideas in the greenhouse business is growing vanilla. Unusual, isn't it? Just imagine, you can collect 8-10 tons from 1 hectare. And the cost of sales now reaches $ 700 per kg.
Due to global climate change, the traditional cultivation of vanilla has changed somewhat, there is already a shortage of this aromatic product for the food, perfume and aromatherapy industries. In nature, it is not easy to collect. However, it grows only near the equator, and in other regions, even if it grows, it does not bear fruit.
The cost is rising sharply, today it is one of the most expensive crops on the world market. And if you grow it in a greenhouse, you can significantly reduce the growing period (up to 50%), as well as increase yields several times and bring the farmer a high profit.
For greenhouses, this is a relatively new crop that is worth paying attention to, because growing vanilla is an interesting and profitable idea for business development. Of course, this is quite painstaking work, the trees bloom daily and pollination of plants will need to be carried out every day and by hand.
How do you like the idea? Want to try growing something new in a greenhouse? Contact us, we will tell you where to start.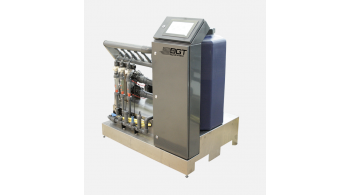 We offer an automatic fertilizer mixer
In these difficult times, we continue to work, and we urge you to continue your important mission - to grow delicious and healthy vegetables in greenhouses, providing our country with food.
We offer an automatic fertilizer mixer that performs precise mixing and application of fertilizers for any plant.
AMI Penta focuses on the need of plants for accurate fertilization and accurate acidity in irrigation water and at the right time.
The AMI Penta fertilizer mixer is easy to operate thanks to the well-organized menu, which is displayed on a large 10.1-inch touch screen. This minimizes the risk of human error.
Complete set and advantages of using the Senmatic AMI PENTA fertilizer mixer
Convenient touch display - Intuitive and easy-to-use menus provide a complete overview.
Software is provided for all groups, recipes and opening valves. This means no additional costs in the future if your needs change.
Supplied with mixing tank - ensuring the right combination of fertilizers and thus higher accuracy of EC and pH control
- Reliable - high-quality - durable mixer
- Flexible settings for many watering groups
- Advanced control of plant growth with sensors
- Ability to customize your own fertilizer recipes (up to 20)
- Many languages ​​are available, and it's very easy to switch between them. This minimizes the risk of human error.
- Several trigger options with an additional selection of different sensors
Basic functions
• Actual names of recipes for fertilizers and irrigation groups
• Module-based, meaning flexible design for easy expansion
• Data collection and full control of the mixer using SuperLink for PC
• Flexible system settings - sensors can be used in irrigation groups
• 6 hour modes per day - 6 different watering strategies - providing automatic EC / pH adjustment every morning and evening
• Multiple alarm settings
• SIIP (Senmatic Intelligent Irrigation Program)
Automate splicing for a quality harvest!
If you have any questions, please call 095-734-1-33- Maria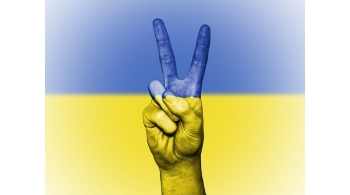 We keep working. Contact information.
Dearest Friends,
Though there is no doubt difficult times have come to us all, these are the times we show the world what it means to be Ukrainian. The world is watching as we unite to protect our families, our land, and our right to be independent. Our courage, bravery, solidarity, and humanity may not be so easily seen in times of peaceful calm, but now the world sees our strength and that the truth stands behind us!
We will rebuild our cities and our nation with renewed strength.
Ukraine will become a prosperous, rich and independent country. This is our goal and mission.
In the meantime… the Perspekta team continues to work remotely. For all questions call the city number, we will call you back; text in managers by 095-09-05-888 or email to info@perspekta.ua.
Hold on, victory will be ours. Glory to Ukraine!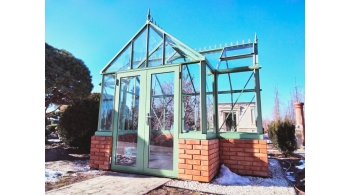 How to prepare a greenhouse for the new season?
Outdoor weather is already beginning to please us with warm temperatures. This means that you need to actively prepare for the new greenhouse season. So where to start?
Usually, the greenhouse itself is prepared from November, when the remains of plants are removed and the greenhouse and soil are disinfected.
Be sure to conduct internal and external inspection of load-bearing structures, foundations, roofing material to identify mechanical defects and their subsequent elimination. And the frame and cover of the greenhouse is washed with water under pressure from a hose from debris and dirt.
If you grow in wooden beds, it is desirable to completely change the soil mixture in the new season. You can fill the beds as follows: lay a layer of expanded clay on the bottom, then a layer of straw or leaves, a layer of peat, and on top of fertile soil with perlite.
If you grow in the greenhouse directly from the soil, it is desirable to replace the top layer of soil with a new one.
If possible, you can pour hot water on the greenhouse soil, followed by covering with black plastic wrap or other covering material. This method of treatment destroys up to 80 - 90% of pests and diseases. Then, after warming the soil, make solutions of biological drugs.
Then we plant the seedlings. You can grow in advance in a warm room, and only then transplanted into a greenhouse. And you can plant the seeds immediately in the greenhouse, but at a time when you know for sure that there will be no frost. The ideal option - if the greenhouse is additionally heated, then there is definitely nothing to worry about.
And how are you preparing for the greenhouse season?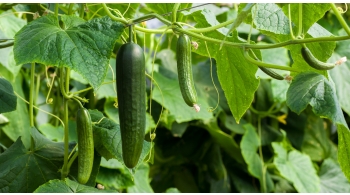 New turnover of greenhouse cucumber in Ukraine
Even at the beginning of winter, most representatives of the greenhouse industry in Ukraine were not sure about the start of the new season due to a sharp increase in the cost of energy, but today a number of plants have already entered the market with a new turnover of cucumber.
The first batches of greenhouse cucumbers appeared on the Ukrainian market in fact at the same time as a year ago.
But still, the rise in the cost of energy resources has made its own adjustments to the cost of new products. Thus, the first batches of smooth cucumbers entered the market at 80-82 UAH/kg ($2.86-2.93/kg), which is on average 10% more expensive than the first batches of these products last year. The price of pimply cucumbers increased more sharply, and at the same time, price growth in this segment continues. So, today greenhouse plants are ready to ship pimply cucumber no cheaper than 90-95 UAH/kg ($3.22-3.40/kg), which is 17% more expensive on average than in the same period last year.
And already by tradition, we wish good luck and a good harvest in the new season to all greenhouse growers in Ukraine.
Source of information EastFruit.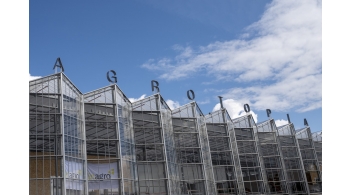 Europe's largest rooftop greenhouse opens in Belgium
We can confidently say that a greenhouse on the roof is definitely a new trend around the world. It is very beautiful, such a house will definitely attract attention. And most importantly, you can get additional space and use this structure both for recreation and for growing your favorite plants.
A rooftop greenhouse was recently built in Belgium, which impressed us a lot. The 9000 m2 roofed greenhouse, which costs 15 million euros, is the largest of its kind in Europe. The goal of the greenhouse is to bring horticulture and society together.
In addition to being a very beautiful greenhouse, important professional greenhouse cultivation tests are underway behind the glass. It is equipped with technology and consists of thirteen research compartments with high-tech equipment. Here they conduct research in the field of hydroponics and substrate cultivation.
There is not a grain of soil on the cultivated area of ​​6,000 m². Growing in a substrate gives you the opportunity to get high-quality crops and reduce the impact on the environment.
Flexible layouts, including a gabled greenhouse at least 12 meters high, allow you to experiment with optimal use of space.
The closed water balance in the greenhouse was created by recirculation. The basis of the nutrient solution is rainwater from five large cylinders on which the façade greenhouse stands. A centrally located nutrient computer prepares nutrient solutions, and a control computer for each compartment controls all settings.
Due to its location close to the growers and buyers of fresh vegetables, the rooftop greenhouse is also a hub for knowledge exchange and demonstration.
Great project, isn't it? Our company already has several mounted greenhouses on the roof and they look great!
Want to decorate your roof with a greenhouse? - Contact!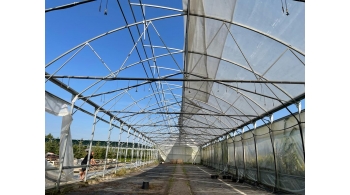 Replacing the film in a farm greenhouse
Often our clients ask us a question "how long will the film last?". We can answer that the lifespan of a greenhouse film depends on the type of film itself. As a rule, higher quality and more expensive film lasts longer than budget options.
On average, manufacturers indicate a film life of 3-4 years, which means that up to 4 years the film will retain its additional properties: all additives that are added to the film will perform their functions.
But from experience we can say that farmers change the same film only after 6-7 years. That is, for about 3 years, the film on the greenhouse no longer has any properties, except as a protective one from the external environment.
And just recently, we replaced an old film in one of the Perspekta farm greenhouses. We use the highest quality Israeli film from Politiv with special additives to improve its properties:
• Transparent, transmits maximum PAR of light and helps to increase the yield. Light transmission 89-90%
• Stabilized;
• Thermal. Keeps you warm by blocking infrared light, which is heat accumulated during the day. Promotes savings on heating costs. Thermal 85%
• Anti-fog effect. The additive absorbs the fog on the film formed due to condensation and prevents it from getting directly onto the plants. Promotes plant protection.
The peculiarity of our film is the roll width of 16m, which allows you to cover professional farm greenhouses.
Isn't it time for you to change the film? If yes - you know who to contact!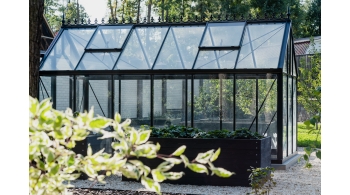 First export - a start has been made!
Today is a special day for our company, as our glass greenhouse has been exported for the first time. The residents of Kazakhstan became the happy owners of the Atrium winter garden model. The desire to decorate your garden with our greenhouse was so strong that even such a long distance did not become an obstacle.
Classic Atrium models have always been popular in any size because they look chic and are very practical to use. All structures are made of the highest quality aluminum, which ensures a long service life in all weather conditions. Covering - tempered glass 4 mm, as in professional industrial solutions.
We are very pleased that Perspekta greenhouses are delightful not only in Ukraine, but also in other countries. We are happy to push the boundaries and make our customers happy.
If you've been dreaming about a Perspekta greenhouse for a long time, it's time to place an order. Call our managers, they will help you choose your ideal greenhouse.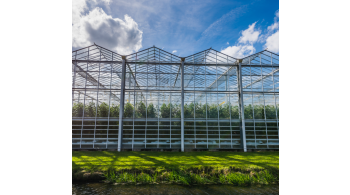 Greenhouses from Perspekta - the experience of professionals
The construction of greenhouse complexes is a highly specialized field of business, in which there are few specialists on the market. You do not have to look for engineers and technologists who will take a long time to understand this direction. Many years of experience allow us to develop a high-quality and professional business solution and carry out a complete project delivery, including a heating system, curtain, additional lighting, drip or flow irrigation, fogging, automatic climate control, service equipment, as well as sorting and packaging machines. During developing a project, we are guided by the basic initial data: Your wishes; climatic conditions where the facility will be built; and the budget that is planned for the implementation of this project.
More than 10 years of experience in the greenhouse technology market allows us not only to offer Dutch greenhouses, but also to provide advice on the most effective and cost-effective crops for growing.
We work with the world's leading producers of greenhouse systems, the best factories in the Netherlands, offering advanced technologies for the cultivation of selected crops.
Distinctive qualities of our offer: modern technologies ensure efficiency and maximum productivity from every square meter of the greenhouse. Consequently, these technologies are the most profitable investment.
Tell us your wishes, requirements and initial data, and we will draw up a vision of the project for you, select a product group and prepare a feasibility study for the project.
The project is calculated individually according to your wishes. We take into account every nuance so that every meter is useful, effective and profitable.
Choose Perspekta professionals, we will help you achieve success in the greenhouse business!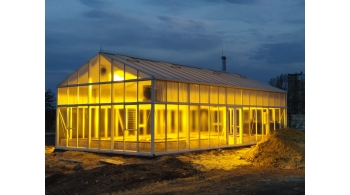 General recommendations for growing in glass greenhouses in winter
The breath of autumn is already felt on the street, so it's time to check your greenhouse for readiness to withstand low temperatures.
We always tell our customers that all professional greenhouses are "cold constructions"!
This means that the frame is lightweight with a single tempered glass. And special engineering systems must be installed for winter cultivation.
For winter cultivation we recommend the following:
1. Be sure to install the top and side of the greenhouse curtain. It is necessary for energy saving, because warm air always rises, it will be a barrier to heat loss - up to 50%.
In sunny weather during the day, the curtains need to be opened to give sunlight to your plants. In the evening and at night, the curtains should be closed to keep warm.
2. Adjust windows with automatic opening for winter mode;
3. Install a heat fan in the greenhouse as an additional heat source or alternative heating options:
- pipe or cable heating of beds; (soil temperature should not exceed 27 ° C.
- fireplaces;
- electric heaters;
- warm glass.
4. If an additional heat source is used, it is necessary to install a conventional circulating fan to equalize the climate in the greenhouse.
In order to correctly determine what type of heating of your greenhouse - you need to understand how the greenhouse you plan to grow will be used and what temperature you need to maintain.
And we remind you that we offer turnkey projects of professional greenhouses. By choosing the Perspekta greenhouse, you can be sure of the quality of all systems that will allow you to harvest your favorite crops all year round.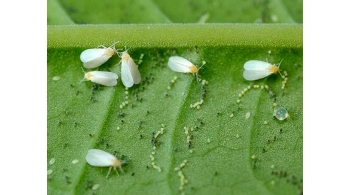 Whitefly in a greenhouse
Continuing the theme of pests in the greenhouse, one of the most dangerous and common pests of vegetables, citrus crops and even flowers in greenhouses is the whitefly.
Despite their small size, they can cause significant damage to plants. It appears on seedlings of vegetable crops with large-celled loose tissues, most often tomatoes, eggplants, etc.
Whitefly can be found on the inside and outside of the leaves of affected plants. Under mechanical action, shaking, butterflies fly away. They prefer places with high humidity and temperature, thickened plantings. When the temperature drops to + 10 ° C, insects die, but their eggs can withstand even winter frosts. That is why the whitefly most often infects plants in greenhouses, because in the open air it interferes with the wind.
The main damage to plants is caused by whitefly larvae at different stages of their development. They, like aphids, actively suck out juices from plant leaves. Moreover, at the first stage of growth, the larvae (tramps) are able to move along the branches and choose the shoots that are most tasty for them. In the process of feeding, they secrete a sugary sticky liquid. The latter is very fond of ants, it can also become a breeding ground for sooty fungi, which form a black coating that prevents the passage of sunlight. This, in turn, leads to a decrease in the processes of photosynthesis. When the larvae are ready to turn into butterflies, they become inactive, pale green, and can become covered with a waxy coating.
Preventive measures
Autumn disinfection of greenhouses. After harvesting, all plant residues should be removed, because eggs and larvae may remain on them, which can overwinter and continue development in spring. Also important complex measures for pest control are disinfection, deep digging of the soil. Don't forget to remove weeds around your greenhouses.
Mechanical barriers. Whiteflies' active years begin in June. To prevent insects from entering the greenhouse or greenhouse, care should be taken in advance to install fine mesh frames on window and door openings.
Creation of traps. Sticky surfaces can be used to trap adults. Some seasoned gardeners claim that whiteflies are most attracted to yellow.
As practice shows, folk methods are ineffective and help only in the early stages of planting infection. To effectively remove pests, professional whitefly control products should be used. But experienced gardeners know that it is better to prevent a whitefly from appearing in a greenhouse or greenhouse than to fight it.
Sit down for our news, here you can find a lot of useful information.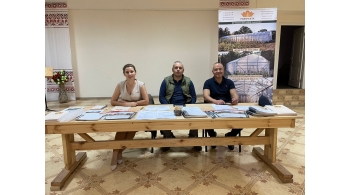 Perspekta on the training "Actual problems of growing cucumbers and tomatoes in the greenhouse season 2021"
Kamenka - Dniprovska, Zaporizha region, is famous throughout Ukraine for the number of film greenhouses and farmers who have devoted themselves to greenhouse cultivation. Therefore, it is not for nothing that it was here on September 2 that the training "Actual problems of growing cucumbers and tomatoes in the greenhouse season 2021" was held.
The main speakers at the event were:
- Zinovia Elinskaya, international agricultural consultant, specialist with many years of experience in vegetable growing.
- Anvar Elibaev, agricultural consultant, specialist in indoor cultivation;
- Alexander Sokolov, expert in biological plant protection.
Naturally, our company also participated in this seminar, we were happy to talk to local farmers and advise on farm greenhouses and internal systems. Also, our representative, Maria Pisarets, spoke at the seminar about growing vegetables hydroponically in a greenhouse and how modern technologies affect the harvest.
We are sure that the training participants received a lot of useful information and stocked up with new ideas and inspiration for the next greenhouse season.
Perspekta is a professional approach to the greenhouse business. Only the best quality and constant support at all stages of work.
Still in doubt? - 38 044 334 70 34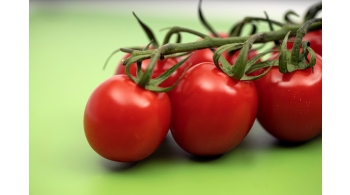 Tomato vaccine against COVID-19
At a time when the whole world is fighting the Corona Virus pandemic, scientists from Uzbekistan have begun to grow a tomato vaccine against COVID-19.
The first edible vaccines produced in Uzbekistan will mature in two months, uznews.uz writes.
According to the Sevimli TV channel Zamon, a person who eats such a tomato is vaccinated against a coronavirus infection.
"We introduced the coronavirus into the plant cell by cloning. After the patient eats the "vaccinated tomato", it enters the human body, and antibodies are released from the tomato cells, "says one of the scientists of the Center for Genomics and Bioinformatics of the Academy of Sciences of the Republic of Uzbekistan.
It is known that the scientists of the Center have been developing this edible vaccine since January of this year.
How do you like this news? Would you prefer to eat a tomato or get vaccinated?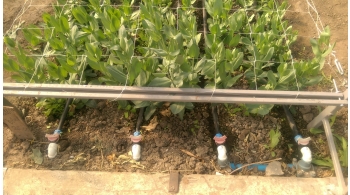 Growing in the soil - reducing greenhouse investment
If you want to reduce the investment of your greenhouse, then growing in the ground may be the best solution for you. So you can grow all crops, protecting them from frost, wind, hail and / or excessive sun exposure.
Some plants are specially grown in the soil, such as chrysanthemums and bulbs (tulip, onion, etc.). They can be planted directly into the ground, or in boxes and / or on racks for easy care and harvesting.
Often, in garden centers, greenhouses are used to keep plants in the winter, so just leave them on the ground, without any cover or additional growing systems.
Therefore, to reduce costs at the start of greenhouse production, you can start with growing in the ground, and later the greenhouse can be equipped with the necessary hydroponic systems.
All your life you have dreamed of a greenhouse business and you don't know where to start? Call, we will help you!
+38 044 334 70 34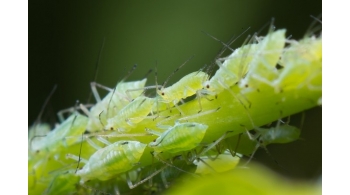 The main pests in greenhouses
The main task when growing indoors is to create the most comfortable conditions for plants, close to natural ones. Heat, light, humidity, air circulation ... At the same time, with such conditions, we also create an ideal breeding ground for the development of pests. The most common greenhouse pests are: aphids, fungal midges, thrips, whiteflies, root aphids and mites.
Aphids are a typical greenhouse pest that feeds on a variety of plants, piercing leaf cells and sucking out nutrients. Carrier of plant viruses, secretes honeydew waste products that can be found on leaves. When the plant is heavily infested, in addition to translucent wet spots, the leaves may turn yellow. stains become an ideal breeding ground for mold or fungal diseases.
Thrips are serious greenhouse pests that feed on a wide variety of plants, piercing the surface cells of leaves and sucking out cell contents with their stylets. As a rule, they feed on buds and new leaves. Bronze or silvery leaf scars and tiny black spots of fecal excrement are visible on heavily damaged leaves.
Whiteflies are white, soft-bodied winged insects of a triangular shape, often found in clusters on the underside of leaves. Whiteflies suck sap from plant stems and leaves. Due to large populations, the leaves may turn yellow, dry, or fall off. Like aphids, whiteflies secrete a sweet liquid called honeydew, so the leaves can be sticky or covered in black mold.
Root aphid - Extracts sugar-rich juice from roots, bulbs and rhizomes. Minor root aphid infestations do not cause significant damage to plants, but as populations increase, root wounds can become entry points for root disease pathogens. Plant roots cannot absorb nutrients and therefore may lack nutrients in the leaves. Plants often lose growth, are smaller and may wilt, especially in hot weather. Root aphids do not move quickly, so infections are often limited to a few plants and spread slowly at first.
Fungal flies are small flies that develop in the growing environment. Adults are 3 mm long, with long legs and antennae. The larvae mainly feed on fungi, algae and decaying plants, as well as plant roots. Wet culture media containing large amounts of peat moss are especially attractive to adult females. Plants infested with numerous mushroom mosquito larvae may experience stunted growth.
Spider mite - It feeds on various types of plants, sucking the contents of plant cells through a pair of sharp stylets. Spider mites are tiny (about 0.5 mm long) arachnids with 8 legs and a creamy appearance. Spider mite populations can grow exponentially in a very short period of time. Eggs are laid in clusters on the underside of the leaves. The initial stage of colonization usually begins in the lower third of the plant. The lesion initially appears as pinpoint or yellowish-reddish-brown spots on the leaves, which are arranged in accordance with the groups of colonies usually found on the underside of the leaf. The leaves turn yellow at first, and at high drying density they dry out and die off.
All of these pests cause incredible damage to your plants, and ultimately to your crops and economy. In order not to start the situation, it is necessary to monitor and diagnose the presence of insects.
Follow our updates, you can find a lot of useful information here.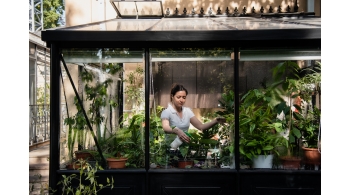 Some tips on how to grow in a greenhouse in summer
During some of the hottest and driest summer months, your plants need extra care. Namely: watering, feeding, pest control and shading are key components of successful glass growing.
Watering. Do not allow the soil to dry out; watering should be carried out before the plants begin to feel a lack of moisture. Best of all is evening watering. Extremely hot and sunny weather may require re-watering in the morning and at noon, but be careful not to splash on leaves or fruits. This can damage and burn the leaves. Do not water the plants with too cold water! A sharp temperature drop for plants is always stress.
Top dressing. Do not neglect plant nutrition, especially such as tomatoes, cucumbers, peppers and eggplants. Establish a regular feeding schedule, for example, always apply it along with the appropriate fertilizer on the same evening every week.
Remember that you are creating this extremely important warm and humid atmosphere that many pest species also love. If "unwanted guests" have already appeared in your greenhouse, treat the pests with appropriate biological pesticides. Always read the instructions carefully before processing plants and store the concentrated product in a cool place, out of direct sunlight and out of reach of children.
Shading is one of the important systems in the greenhouse at any time of the year, especially in summer. This is the main protection against direct sunlight. Have you noticed that it will always be a little cooler in a shaded greenhouse than in an unprotected one?
Airing. Keep doors and windows open to allow good circulation of fresh air. The automatic window opening system will help to minimize your participation in the control of this process.
We will help you create the most comfortable conditions for plants in the greenhouse! And you, in turn, will get an excellent and tasty harvest!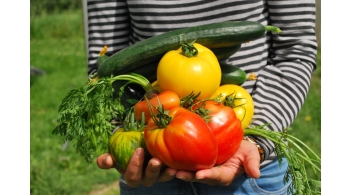 Are vegetables from the greenhouse as tasty as from the garden?
Have you ever seen barely pink tomatoes on the shelves in the store? You buy them, go home and cut them for salad. Taste and understand that there is almost no taste! Have you been in similar situations?
In fact, this is usually the case: there are farmers in Turkey or Morocco who grow tomatoes specifically for export. They select the appropriate variety of tomato for export, which is well transported. Such varieties are usually less sweet at first and harder than usual.
In order for a tomato to be on the road for a long time (a week or even two), and even to lie on the shelf for a few days, it is plucked completely green. The color, reaching, he "gains" on the road. And now this tomato, not fully ripe in the greenhouse and not gaining enough sugar, came to the shelf from which you took it.
Compare this tomato with the one grown on a farm near you. Of course, this tomato will cost more, because the greenhouse needs to be heated and lit. But the taste is rich, the tomato is useful, fragrant and delicious.
So let's grow delicious tomatoes in Ukraine all year round! After all, there is always a demand for tasty products.
How? - we will help in this.
+38 044 334 70 34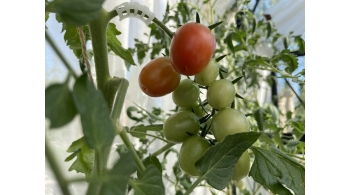 Interesting facts about cherry tomatoes that you may not have to know
Summer is in full swing and continues to delight us with fragrant, juicy seasonal vegetables, fruits and berries. One of the favorite seasonal vegetables of Ukrainians is cherry tomatoes. Did you know the following facts about them?
1. 1973 is considered the year of "birth" of cherry tomatoes. Israeli breeders have created this unusual variety in order to slow down the rapid ripening of ordinary tomatoes in hot climates;
2. Not only delicious, but also very useful! Cherry tomatoes have pronounced dietary properties. They strengthen the cardiovascular system, normalize metabolism and are even used to prevent cancer;
3. The name "cherry" - received because of its external resemblance to cherries;
4. Almost all professional seeds are hybrids. They tolerate sudden changes in temperature, climate change, lack of moisture. Therefore, when choosing cherry tomato seeds, hybrids should be preferred (they are marked with the F1 icon on the bag);
5. To date, a lot of selection work has been done, even some cherry tomatoes have a rather unusual taste. Yes, the sweetest cherries can give a taste of strawberries, raspberries, nutmeg and blueberries.
6. Up to 22 tomatoes can grow at once on 1 tassel. And from one bush you can get up to 300-400 fruits of excellent quality. The weight of the tiniest cherry tomatoes does not exceed 10 grams.
7. Cherry - a great product. They are 3-5 times more expensive than ordinary tomatoes, but the demand for them exceeds the supply.
8. And most importantly - the most delicious and sweetest cherry tomatoes can be obtained if you grow them yourself in a greenhouse Perspekta, it is perfect for this. Do not believe it - come to visit us for a tasting of cherry tomatoes and see for yourself!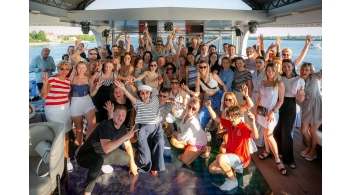 Perspekta on the Day of Architecture
Last week, together with DHC Media, we congratulated everyone involved in this holiday on Architecture Day. The organizer managed to bring together talented and creative people who know how to design and implement incredible ideas.
Attending such events we learn about the latest trends and innovations of modern architecture. In turn, we also have something to surprise by offering ideas for the implementation of modern conservatories that can emphasize the uniqueness and style.
Perspekta, working with designers and architects, is always ready to help integrate exclusive greenhouse solutions for any purpose.
Let's create beauty around ourselves together!